Silver Creek Golf & RV Resort
Monday, July 17
$60.00
Description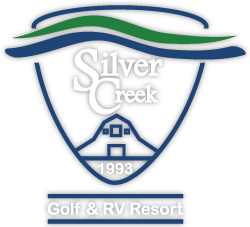 Located 15 minutes south of Camrose on Hwy 21, the Silver Creek Golf & RV Resort has 27 holes to challenge all levels of competitors.
Available Tee Times for Monday, July 17
NOTE: A twosome is for 2 players with a power cart.
A foursome is for 4 players with Two Power Carts. All prices include GST.
Additional information
| | |
| --- | --- |
| Time Slots | 1:00 PM, 10:15 AM, 10:22 AM, 10:30 AM, 10:37 AM, 10:52 AM, 11:00 AM, 11:22 AM, 11:37 AM, 11:45 AM, 11:50 AM, 12:00 PM, 12:07 PM, 12:22 PM, 12:30 PM, 12:37 PM, 12:45 PM, 12:52 PM, 8:07 AM, 8:15 AM, 8:22 AM, 8:37 AM, 8:45 AM, 8:52 AM, 9:00 AM, 9:07 AM, 9:22 AM, 9:30 AM, 9:37 AM, 9:45 AM, 9:52 AM, 8:00 AM, 10:00 AM, 10:07 AM, 10:45 AM, 11:07 AM, 11:15 AM, 11:30 AM, 12:15 PM, 8:30 AM, 9:15 AM |