Northern Bear Golf Course
Monday, May 16
$120.00
Description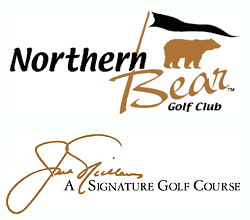 Alberta's premier championship golf course A Jack Nicklaus Signature Course, located in Sherwood Park, Alberta, just 30 minutes from downtown Edmonton. Built on Jack Nicklaus' legendary tradition of designing prestigious and spectacular courses, it offers the ultimate play for every golf enthusiast. The Bear is a perfect blend of tree lined fairways, strategic bunker placements, five lakes, and USGA standard greens. With five sets of tees ranging from 5800 to 7400 yards, it is designed to entice novice and experts alike.
Available Tee Times for Monday, May 16
NOTE: A twosome is for 2 players with a power cart.
A foursome is for 4 players with Two Power Carts. All prices include GST.
Additional information
| | |
| --- | --- |
| Time Slots | 11:58 AM, 12:23 PM, 12:32 PM, 12:40 PM, 12:49 PM, 12:57 PM, 8:00 AM, 10:07 AM, 10:16 AM, 10:24 AM, 10:33 AM, 10:41 AM, 10:50 AM, 10:58 AM, 11:07 AM, 11:15 AM, 11:24 AM, 11:32 AM, 11:41 AM, 11:49 AM, 12:06 PM, 12:15 PM, 8:08 AM, 8:17 AM, 8:25 AM, 8:34 AM, 8:42 AM, 8:51 AM, 8:59 AM, 9:08 AM, 9:16 AM, 9:25 AM, 9:33 AM, 9:42 AM, 9:50 AM, 9:59 AM |