Athabasca Golf & Country Club
Monday, June 19
$80.00
Description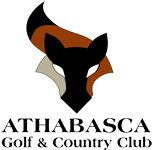 One of northern Alberta's top rated golf courses, The Athabasca Golf Course!
Set amidst the beauty of the boreal forest in the Athabasca River valley, this challenging (yet fun to play) 18-hole layout is a true testament of man working alongside nature to create a visually stunning and unobtrusive test of golf.
While the Athabasca Golf Course can play as tough as any in the country – it's ranked No. 4 on a national basis when played from the tips where it stretches out to over 7,300 yards with a slope rating of 142 – this gem is also a delight for anyone from the beginner to the senior golfer. Yardages range from 5,400 yards from the front decks; 6,316 from the second set of tees before stretching out finally to an imposing, yet manageable distance of just over 7,000 yards with a slope rating of 132 at the second to last teeing area .
Located 90 minutes north of Edmonton, the Athabasca Golf Course is well worth the drive – you'll be sure to recall your drives and chip shots along with those unbelievable long putts you sank on the immaculate greens, when you come to play at one of northern Alberta's premiere golf course.
Available Tee Times for Monday, June 19
NOTE: A twosome is for 2 players with a power cart.
A foursome is for 4 players with Two Power Carts. All prices include GST.
Additional information
| | |
| --- | --- |
| Time Slots | 1:00 PM, 10:10 AM, 10:20 AM, 10:30 AM, 10:40 AM, 11:00 AM, 11:10 AM, 11:20 AM, 11:40 AM, 11:50 AM, 12:00 PM, 12:10 PM, 12:20 PM, 12:30 PM, 12:40 PM, 12:50 PM, 9:00 AM, 9:10 AM, 9:20 AM, 9:30 AM, 9:40 AM, 1:10 PM, 1:20 PM, 1:30 PM, 1:40 PM, 1:50 PM, 10:00 AM, 10:50 AM, 11:30 AM, 9:50 AM |